The Only Advertising Unit in The World
That is Backed by Google's Guarantee
Google Calls Advisor provides personalized service to help businesses get approved for the "Google Guarantee." This designation tells customers that your business is a trusted provider of services in your local area. The product also provides white glove management of your Google My Business (GMB) Page including professionally curated content and customer review acquisition that helps you rank highest in search results. Once your business is approved, Google Calls Advisor provisions pay-per-call ads for your business and enables your business to set and manage your budget and obtain active leads at a fixed-cost.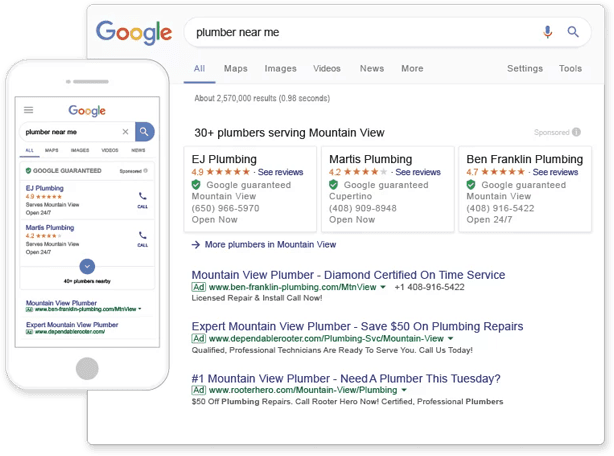 Is your business eligible?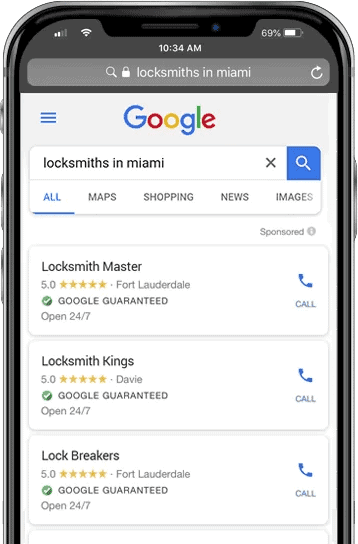 How Local Services Ads Work?
Based on your business model, you set a weekly budget that will never be exceeded. While the number of leads you receive daily may change, you will not be allowed to spend more than the amount of your weekly budget. Unlike other paid Google services, you are only charged for the leads that you receive. Several factors determine what a specific lead may cost, including service type, local competition and the type of lead. Each viable lead received will count towards your weekly budget and if you feel that a lead you receive is not valid, you will have options to dispute it.
Get Your Google Badge Of Trust Now!
Online customer reviews are a critical component of your business. Have you asked yourself if you have enough reviews? Are they the right kind of reviews? Is my star rating high enough? These are all things that will help determine your status as "Google Guaranteed". Our Review Stream program is tailored to position you for the highest degree of success.